NOIA COCKLES. ARTISANAL FISHING. GALICIAN RIAS
The collective mark 'BERBERECHO DE NOIA. PESCA ARTESANAL. RÍAS GALEGAS' is a trademark that distinguishes cockles (Cerastoderma edule) that have been harvested from the authorized and licensed areas included in the Resource Exploitation Plan for authorized on-foot and on-board shellfish gathering activities by professional on-foot and on-board shellfishers included in the current Resource Exploitation Plan managed by the Noia Fishers Association and that have been commercialized through any of the first-sale markets managed by said Fishers Association.
NEWS
http://www.crtvg.es/tvg/a-carta/vivir-o-mar-977-4193744 ...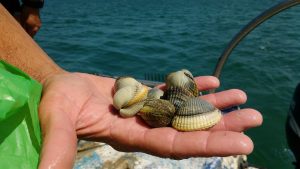 Sorry, this entry is only available in European Spanish and Galician ...